There's a lot of buzz about this extreme social experiment:
Married at First Sight that follows six people on their quest to find "the ONE". They're paired up by experts and are legally married as soon as they see each other.
At the end of the experiment, each couple will choose - stay married? or get a divorce?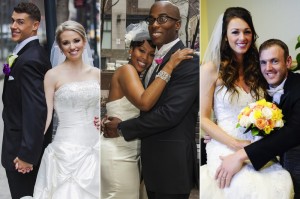 Now, that the series is over and we all know 2 out of 3 of the couples decided to stay married. There's actually a lot to learn from each couple - even from the couple who chose to get a divorce.
Here's an article I'd like to share with you, it sums up what takeaways women can get from this eye-opening social experiment.
Yours in Perfect Passion,
- Carlos Cavallo
---
Title:  10 Takeaways From "Married At First Sight"
I don't have cable so it wasn't until I was home at my parents' house when I first saw "Married At First Sight." I'll be honest at first I found it disrespectful. I appreciate the sanctity of marriage and take it seriously. It just seemed like the show was going to be making a mockery of the whole thing, all for some ratings.
But then I started watching. And after the first ten minutes, I was all in. All the way in. The concept was fascinating and I really believed that the couples really were adamant about being married.
After all these people went through a background check and psych evaluation to ensure that they were actually ready for this process. And after that they took an extensive personality test and questionnaire to find their ideal mate.
So after watching a majority of the season and then the reunion show afterward, here are some takeaways...
Click here - to go ahead and read the rest of the article at Madamenoire.com