Alpha females: you're chasing the wrong guy – look for a Beta man
Alpha Ladies, are you struggling to find a man that's not intimidated with your success?
Here's a strategy that you might have not considered…
Dr. Sonya Rhodes, a New York-based psychotherapist that was inspired to write the guide based on her experience of clients looking for love.
Her thesis is inspiring: Mr Good doesn't have to be Mr Good Enough.
Brilliant, brainy women shouldn't feel confined to one socio-economic group of partners; they may even find themselves happier and more fulfilled with someone from a very different sphere of life.
Read the rest of the article now and let me know what you think about the "Beta Man…"
Yours in Perfect Passion,
– Carlos Cavallo
—
Title:  Alpha females: you're chasing the wrong guy – look for a Beta man
Has there ever been a better time to be an Alpha female?
From Beyoncé to Hillary Clinton, Sheryl Sandberg to Dame Sally Davis, public life is full of strong, independent women making their mark on the worlds of entertainment, politics, business and health.
We're learning how to smash the glass ceiling, find our inner tiger mother and balance high-powered careers with a happy home. Like men have done for decades, 21st-century women are finally embracing the "Alpha" within – knowing exactly what they want and stopping at nothing to get it.
There's only one problem. The Alpha female struggles to find a perfect partner. With her reputation for…
Carlos Cavallo, Dating and Attraction Adviser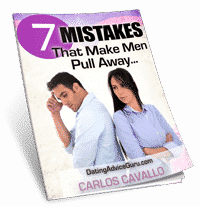 Get Your Free Cheatsheet
The REAL Reason Men Run From Relationships...
How To Know If He's Still Interested...
Is He Afraid To Commit? Find out...
Enter Your Email And Get The 7 Mistakes Women Make That Make Him Pull Away...
Click here – to go ahead and read the rest of the article at Telegraph.co.uk