Are You The Other Woman?
If you're the "3rd party" in someone's relationship,  then do yourself a favor and read the article below.
It doesn't matter if the guy you're with is married or "just" has a girlfriend.
As long as he's in a committed relationship with someone else, you're the fifth wheel in their lives – that's something you need to avoid at all costs.
So check this out and get a fresh perspective on your situation. Remember, doing what's right for you (and everyone involved) is about seeing the big picture.
Yours in Perfect Passion,
– Carlos Cavallo
—
Title: Are You The Other Woman?
Don't you women get it yet? Most married men are not going to leave their wife for the other woman. These men want the best of both and as long as you're giving it to them that's how things will be. These men are just missing that spark that passion that their marriage has lost. And they want he excitement of someone new. Oh at first, they really think that they're in love, but as time goes by they realize that they aren't as it becomes more routine.
When the other woman starts pressuring the…
Carlos Cavallo, Dating and Attraction Adviser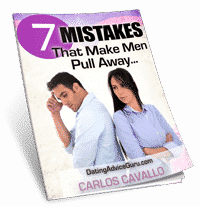 Get Your Free Cheatsheet
The REAL Reason Men Run From Relationships...
How To Know If He's Still Interested...
Is He Afraid To Commit? Find out...
Enter Your Email And Get The 7 Mistakes Women Make That Make Him Pull Away...