How to STEP UP your sex appeal in 10 easy ways
The Power of Sex Appeal is a quality that can attract men to you almost instantly.
You don't have to be a Jennifer Aniston look-alike to be seen as beautiful, all you need  is to have that "oomph" – that unmistakable inner confidence, that tells the world to SEE you…

The good thing is that, you can learn how to have that sex appeal.
All you need are the ways mentioned in the article below. Read it now, and you can start to have that edge, that power in your life.
Yours in Perfect Passion,
– Carlos Cavallo
—
Title:  How to Step Up Your Sex Appeal in 10 Easy Ways
We already know you don't need any advice on how to be sexy or how to look hot—you just are—but looking sexier than ever is another story entirely. Ramp up your carnal appeal with these 10 surprisingly simple tips.
1. Wear lace.
Not only is lace one of this season's hottest fashion trends, it also has transformative powers. "Wearing a lacy top or dress can transform a woman into a seductress. It's a way to express your feminine side because when you…
Click here – to go ahead and read the rest of the article at Dailymakeover.com
Carlos Cavallo, Dating and Attraction Adviser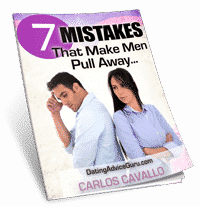 Get Your Free Cheatsheet
The REAL Reason Men Run From Relationships...
How To Know If He's Still Interested...
Is He Afraid To Commit? Find out...
Enter Your Email And Get The 7 Mistakes Women Make That Make Him Pull Away...