Jealousy In Couples: Love Or Something Else?
Often we are ruled by intense emotions when we see our man looking at another girl – or worse, when he's talking to her and they're obviously flirting.
When you feel jealous, your dignity goes out the window. You just feel that panic that makes you want to get to the bottom of things – NOW.
And if you lose your cool without getting all the facts, you could be left embarrassed and full of regret.
The article below talks about what causes jealousy and how to control it…
Yours In Perfect Passion,
– Carlos Cavallo
—
Title: Jealousy In Couples: Love Or Something Else?
We could define jealousy as an emotional state that an anxious person has and is characterized by fear of the prospect of losing what one has, or is deemed to have, or should have such as love, power, social or professional image.
It is also deemed as a feeling that can be dangerous.
The jealous person is insecure, feels that everyone has abandoned him, has a low self-esteem and that makes him very aggressive with their partners and their environment. It is very difficult to live with a jealous person. Jealousy is a disease so beware of the extremes.
It is said that jealousy is part of love…
Carlos Cavallo, Dating and Attraction Adviser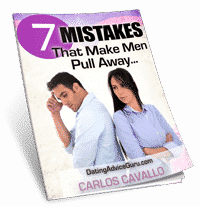 Get Your Free Cheatsheet
The REAL Reason Men Run From Relationships...
How To Know If He's Still Interested...
Is He Afraid To Commit? Find out...
Enter Your Email And Get The 7 Mistakes Women Make That Make Him Pull Away...
Click here – to go ahead and read the rest of the article at Smartrelationshipadvice.com