There are a ton of guys out there.
You might have heard this a lot, but you find yourself wondering where all these men are hiding.
If there really are a lot of guys for you to meet, then you shouldn't still be single right now...or having a difficult time looking for them.
I found this article that has some good ideas about where to find those guys. 44, in fact.
And remember, if you go through a list like this and find yourself saying "Nah, none of those would work for me" - there's a good chance you're looking for reasons to NOT try.
Yours In Perfect Passion,
- Carlos Cavallo
_______
Title: 44 Best Places to Meet Eligible Men
Places to Meet Eligible Men become more and more scarce these days. Heck, even eligible men as they are have become a rare species. And what do we single ladies do about this?
Well, my guess is it can go 2 ways - either we sit and wait for the good men to sweep us off our feet or we simply take the first step toward our destiny and check out the best places to meet eligible men to see if our future boyfriends or husbands might be there?
Well, if you are like me and you are choosing the second option, let's get ready for some action and take a quick look at this fabulous list of 44 Best Places to Meet Eligible Men!
Click here - to go ahead and read the rest of the article at Allwomenstalk.com
Carlos Cavallo, Dating and Attraction Adviser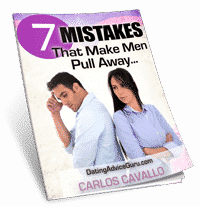 Get Your Free Cheatsheet
The REAL Reason Men Run From Relationships...
How To Know If He's Still Interested...
Is He Afraid To Commit? Find out...
Enter Your Email And Get The 7 Mistakes Women Make That Make Him Pull Away...