Most of the time, the pressure is on the guy to approach a woman if he likes her. But what if you spotted him first, and you're the one who wants to start a conversation?
On the surface, it might seem tricky to turn the usual scenario on its head by initiating the conversation instead of him. For some women, they feel the need to hold back because of the perception that guys should be the one to get the ball rolling.
Then there are women who are just plain shy. They're petrified by the idea of walking up to a stranger, afraid they might get the cold shoulder.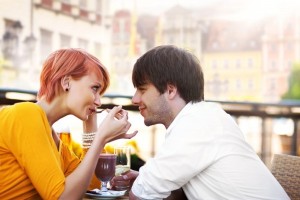 Whatever it is, there's a great deal of what-ifs over the horizon, making it hard to cross that line and take a leap of faith.
But when you think about it for a second and dig a little deeper, you'll find that it's not really about who makes the first move.
What's important is that one of you sets things in motion (and in this case, that person is you) then let the other reciprocate.
It's like a tennis match - as long as someone makes that opening serve, then it's game on!
So, there you are, checking him out, but don't have a thing to say. No problem.
Look around you; there's something in your immediate environment that's noteworthy to talk about.
Guys do this all the time - starting the conversation this way is more casual and doesn't seem forced. For instance, a friend of mine met his girlfriend on the subway after spotting one of those crazy commuters doing weird stuff.
He was like, "Of course that guy just had to bring his laptop and watch Adventure Time on full blast for everyone to hear…personally, I'm a Looney Tunes kind of guy, but to each his own I guess."
Carlos Cavallo, Dating and Attraction Adviser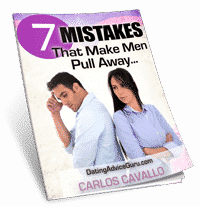 Get Your Free Cheatsheet
The REAL Reason Men Run From Relationships...
How To Know If He's Still Interested...
Is He Afraid To Commit? Find out...
Enter Your Email And Get The 7 Mistakes Women Make That Make Him Pull Away...
That got her laughing and he ended up getting her number before she got off at her stop.
Random stuff happens all the time, so use that as your material and run with it!
Here's another natural way to kick things off: give him props for something cool he's wearing, reading or doing.
Another friend of mine was at a concert and a girl teased him about the shirt he was wearing: "My shirt had an obscure band's name on it, and she playfully asked, 'Oh, are those guys still around?' We had a fun discussion about music after that, and we're currently dating."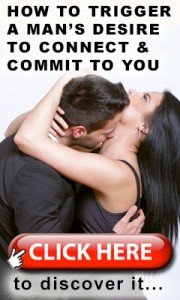 So ladies, don't be afraid to inject a little humor into your opening compliment if the opportunity presents itself. Guys are more likely to open up if you take notice of something about them (like validating their fashion choices) AND having a little fun at the same time.
In fact, men love a mental challenge.
Pushing the envelope just a bit by busting his chops and giving him a hard time tells him you're different from the other girls he's met.
And quite honestly, I can tell you that any guy would be pleasantly surprised if a girl started a conversation with him in the first place. That's why you should drop all those distracting thoughts in your head and just go for it.
He may be taken, too chicken to respond or just not that friendly - it doesn't matter.
The less you care about the outcome, the more you'll enjoy the rush from making the first move to connect with him.
And if it's a long-term connection you're after, you'll want to learn about his Connection Style. It's a simple yet powerful secret to not just creating attraction, but also making him fall in love with you.
He won't know what hit him – check this out to learn more:
https://2.datingadviceguru.com/sp/report/conncode.php
Yours, in Perfect Passion,
- Carlos Cavallo