Chances are you've found yourself in Nicole Kidman's shoes at some point in your life. Just this week, she revealed to Jimmy Fallon on the Tonight Show that they could have become a thing back in 2000.
During the interview, Jimmy brought up that they knew each other from back then, saying that a mutual friend had introduced them. Little did he know that Nicole (who was single at the time) had a thing for Jimmy.
The look on Jimmy's face was priceless as Nicole hit him with their romance that could have been.
Thinking it was just a casual meet-up, Jimmy pretty much extinguished what could have been real sparks between him and Nicole.
When their friend brought up Nicole to Jimmy's apartment, not only did he bring out crackers and brie cheese, Jimmy also put on a video game (really, dude?).
So Nicole thought he just wasn't interested. Then she quipped, "and I was like, 'Maybe he's gay…' ", thoroughly embarrassing the talk show host.
Even though Jimmy buried his face in his hands out of shame, it was all good fun.
Aside from laughing my face off, I felt a little relieved that even famous guys make boneheaded (and hilarious) mistakes with women. I've had my own share of screw-ups, but not as epic as his!
I'm pretty sure you've also met a guy who misread the situation or gave off the wrong signals.
How did you handle it when you thought your Mr. Clueless wasn't into you, only to find out you could have been more than friends?
Do you think Nicole should have dropped more hints? Or was it Jimmy's fault for catching on too late?
As for me, I'd make damn sure to bring my A-game if I knew an attractive (and more importantly, single) award-winning actress was coming up to MY place.
And I'd be sure as hell not to put on a video game if that actress was trying to flirt with me!
But hey, at least Jimmy can brag that once upon a time, none other than Nicole Kidman was interested in him. Besides, we all learn from our mistakes, don't we?
Carlos Cavallo, Dating and Attraction Adviser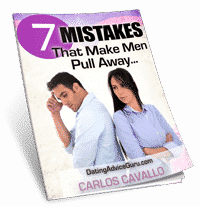 Get Your Free Cheatsheet
The REAL Reason Men Run From Relationships...
How To Know If He's Still Interested...
Is He Afraid To Commit? Find out...
Enter Your Email And Get The 7 Mistakes Women Make That Make Him Pull Away...
Here's a good way to avoid making mistakes in your relationship - CLICK HERE to understand your guy's Connection Style.
It's the single most effective way to keep your man happy without the drama!
Yours in Perfect Passion,
- Carlos Cavallo