Looking for a Sugar Daddy?
Well, here's an interesting article that might make you think about that a bit more.
The story about a beautiful woman (who could have any guy she wants) made all the mistakes in keeping a politician who was really into her.
Read this now so you can avoid the mistakes she made - and maybe take comfort in knowing this wasn't you.
And that looks aren't enough to earn you that dream romance.
Yours in Perfect Passion,
- Carlos Cavallo
---
Title:  Win a Rich Man By Avoiding these Common Mistakes
The Art of Being the Upscale Girl
To a great extent men are basically all the same and all want the same things in a woman, however, the desire for a woman of these particular traits intensifies when dating a man of great wealth.
When it comes to their money men are very guarded and distrustful to start with. The reason for this is probably because there are always women who are willing to make absolute fools of themselves for a wealthy man, and by the time you are dating him, he is already on guard and ready to put you into the "another gold digging hooker" category.
You must be extra careful not to give him any ammunition to think that your...
Click here - to go ahead and read the rest of the article at Hubpages.com
Carlos Cavallo, Dating and Attraction Adviser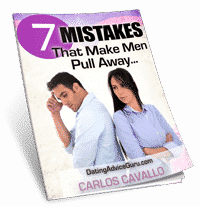 Get Your Free Cheatsheet
The REAL Reason Men Run From Relationships...
How To Know If He's Still Interested...
Is He Afraid To Commit? Find out...
Enter Your Email And Get The 7 Mistakes Women Make That Make Him Pull Away...