Why the Dating Game Sucks and 3 Ways to Deal With It
You're dressed to kill, ready to be your fun, flirty self and raring to rock your date's world. But despite your best efforts, your soulmate-to-be turned out to be another dud.
That's just the reality of meeting and going out with men – sometimes, things don't go according to plan.
You hope for the best, but you just can't seem to catch a break. And when you've had your expectations crushed one time too many, it can wear out even the most optimistic woman.
So you end up asking yourself, "Where are all the decent, funny, good-looking guys hiding…and why can't I land one no matter how hard I try?"
It would be so much easier if you could just look into a crystal ball and know exactly when and where Mr. Right is going to be.
But the fact is that you'll never really know when you'll "hit it big" and finally meet the guy who's right for you.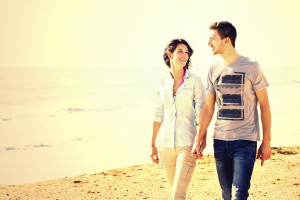 One of the basic (and awful) truths about dating is that you don't have any control over a big part of the process, like your date's character and intentions, for example.
And the thought of that can make anyone feel helpless. However, there are a few things you can do take ownership of your dating life – and happiness.
#1: Understand That Happiness is a Relative Concept
Ever heard the expression "More money, more problems"?
Just look at the billionaire CEOs and celebrities driving their lives right to the ground in spite of everything they have.
Contrary to what MOST of us think, having a big pile of cash lying around doesn't guarantee we're always going to be happy.
Carlos Cavallo, Dating and Attraction Adviser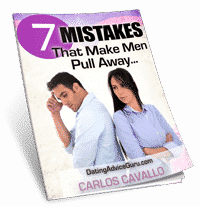 Get Your Free Cheatsheet
The REAL Reason Men Run From Relationships...
How To Know If He's Still Interested...
Is He Afraid To Commit? Find out...
Enter Your Email And Get The 7 Mistakes Women Make That Make Him Pull Away...
In fact, what we believe will make us happy won't actually do the trick.
And that applies to dating as well. You might assume that a certain kind of guy is going to give you your "happily ever after", but the expectations in our heads don't always correlate to reality.
Who knows, the free-spirited, take-me-where-the-blows type you always pictured yourself falling in love with might not be the ONLY good match for you. Maybe that feeling of fun and freedom isn't the only criteria for an ideal relationship.
Who says dating a 9-to-5, straight-arrow kind of guy won't provide you just as much happiness – even without the whirlwind romance you've dreamed about?
Who says he can't offer you just as much excitement as other types of men?
#2: Get a New Perspective on Dating
If you want to look at the business of dating guys in a more positive light, here's my recommendation: keep your eyes OFF the prize.
One of the things I notice with a lot of women is that they tend to focus too much on the end result when they should be enjoying the ride.
When people get on the roller coaster, they don't tell themselves, "Boy, I'm really looking forward to seeing the end of this track!"
It's all about savoring the anticipation, enjoying the sudden twists and turns, and above all, having a blast.
If you lose sight of this, you'll just end up feeling horrible when your date doesn't have that picture-perfect Hollywood ending that you envisioned.
As a result, you'll feel like a failure if things turn out to be less than perfect. That's not a healthy attitude to have about dating – or men in general.
Here's what you do before getting on a date: take all those anxieties and doubts, roll them into a nice little ball, and tell yourself, "screw the outcome" as you chuck it out the window.
Who needs that mental baggage anyway?
Just concentrate on looking your best and having the best possible time with your guy. Stop hemming and hawing – squeeze out every drop of enjoyment from the experience.
Even if he doesn't end up being the right guy for you, just think of dating as playing a video game with an infinite stack of quarters.
I'll let you in on a little secret: that's how a lot of guys think.
Got turned down or rejected? No problem –just drop in that proverbial quarter and start over.
#3: Get Back In Touch With Your Idealistic Self
Remember the time when you were still new to dating and imagined your happy ending? Maybe you ran through different scenarios, and pictured yourself how wonderful it would turn out to be.
Now that you've met a handful of guys – and even got into a relationship with some of them –that sense of excitement might have diminished somewhat.
I've seen this happen to a lot of women. After a few bad experiences, that part of them seems to have taken a backseat, making them jaded and desperate about the dating game.
So, I'd like you to go back to that state of mind. You need to look forward to going out with guys rather than dreading the failed outcome in your head.
To keep yourself from falling into that trap, try imagining exactly what your ideal guy is like, and how you'd spend the perfect day with him.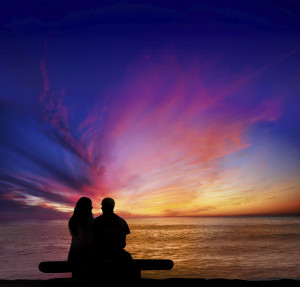 Try narrowing down every detail possible, like your outfit and his, or where your date will take place.
Is he wearing a nice pair of flattering jeans with a clean crisp shirt? Are you wearing that cute summer dress with your favorite sneakers?
Will you spend the day getting lost in a foreign city where do you don't speak a lick of the language? Will you explore coffee shops, book stores and just about every nook and cranny?
Will you spend the day having heartfelt conversations about life and love?
When will be the exact moment you'll feel that connection, look into each other's eyes and finally kiss?
Doesn't it feel wonderful to think about it?
"But what's the point of doing that?" you might ask.
Well, I want you to go back to the time when you felt that exhilaration from just thinking of all the wonderful possibilities that await you.
Getting hurt from your past experiences might have made you afraid to open yourself up, but those possibilities have always been there.
But now is the time to reacquaint yourself with your heart's romantic desires. More importantly, you have to understand that there's hardly a short supply of men who can make those dreams come true.
There are PLENTY of guys just like the one you imagined. It's just a matter of renewing your faith in the fact that they're out there and waiting to meet someone like you.
Eventually, you'll realize that dating isn't the ultra-competitive, soul-crushing rat race that a lot of people make it out to be.
Getting back into the dating game with an optimistic mindset might seem hard at first.
The fear of failing can pull your self-confidence right from under your feet, but there is a way to feel 100% secure in yourself no matter what happens.
If that's the case for you, it's time you worked on your irresistibility and confidence levels. My course called "Irresistible Desire" will give you a perfect set of dating tools to help you flirt with guys and attract them with ease.