Should you change who you are just to accommodate someone else's quirks?
You probably know the "correct" response to that. But it's not always obvious when we're bending those things called "boundaries."
Are you aware that you need to have boundaries for a better life… and a better relationship?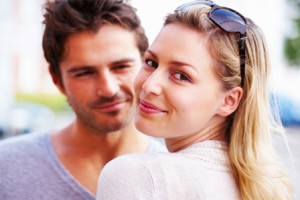 It's never too late to have personal boundaries. In the article below, you'll understand a lot more about why this is so critical.
AND why you don't have to be a BITCH to get the man you want.
Read on...
Yours In Perfect Passion,
- Carlos Cavallo
___
Title: The Importance of Personal Boundaries
A lot of girls have e-mailed me asking for my opinion of the book Why Men Love Bitches. I'd heard of the book a couple times outside of the blog as well, so about six months ago, after a handful of these requests, I decided to get a copy to see what it was all about. My conclusion was that the book is saying something true, but also saying it poorly.
The truth is that men are attracted to bitches, but we don't love them because they are bitches; we just love women that happen to be bitches. In other words, men are attracted to bitches for a quality other than their bitchiness - a quality that any woman (bitch or not) can have. A similar thing is true of women who like "assholes." They only like those men because they are also strong, or confident, or powerful. They don't like them because they are assholes, they like them in spite of their being assholes.
The book "Why Men Love Bitches" doesn't make this distinction strongly enough for my taste. It skirts around a point that many women desperately need to hear without ever directly addressing it. It plays on an attention-grabbing title, at the expense of clearly telling women the crucial point - namely, that being a bitch, in-and-of-itself, is actually very unattractive to men.
My worry is that some women read the book and start being bitchy in an attempt to attract men, just like many men try to be assholes to attract women. Both strategies are dangerous because they are often partially successful, despite missing the real point.
In any case, this criticism obviously begs the question: what are "bitchy" girls doing right?
Click here - to go ahead and read the rest of the article at Therulesrevisited.com