What Do You Do If He's Jealous?
QUESTION FROM READER:
Carlos, I've been dating this guy for about three weeks now.
Last week he asked me if I was seeing anyone else. I told him not really, even though I felt like it was a mistake.
Well, he called me up later that night and accused me of seeing other guys. After about ten minutes of calming him down and reassuring him, he seemed better.
Then he called back a few hours later, crying and apologizing.
I don't understand why he's so jealous. We've only been dating a few weeks.
What's going on?
– Janine DiSalvo – Phoenix, AZ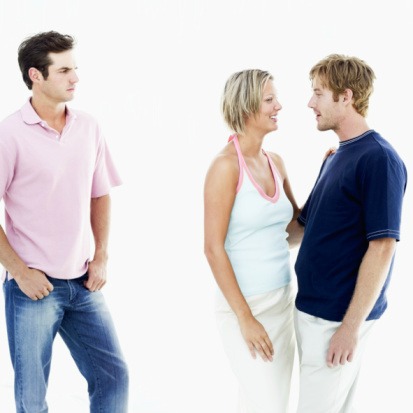 ______________________
CARLOS CAVALLO ANSWERS:
Well, Janine, I have to tell you that your first impulse was the right one. When a man presses you forward faster than you want, that's a sign of insecurity on his part.
Carlos Cavallo, Dating and Attraction Adviser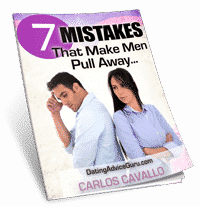 Get Your Free Cheatsheet
The REAL Reason Men Run From Relationships...
How To Know If He's Still Interested...
Is He Afraid To Commit? Find out...
Enter Your Email And Get The 7 Mistakes Women Make That Make Him Pull Away...
And that's what he was doing when he asked if you were seeing someone else. He was rushing your forward to a decision – without even realizing it.
Let's take a peek inside his mind and see what he was thinking:
In his mind, he's like:
"Uh, oh. I'm seeing this woman, and I'm starting to feel a bit insecure. My emotions are a bit out of control because I don't feel in control."
"What if she's seeing other people? What if one of those guys gets her into bed before I do?
"I'm gonna have to find out what's going on so I can stop feeling like this."
You get the picture. It's not that your guy is bad in any way, or this is a red flag.
It's just that – at that moment – he lacked the masculine maturity to keep his insecure feelings under control.
And, inevitably, he rushed to find a solution. A way to stop feeling insecure.
His solution?
Get you to make him feel secure again.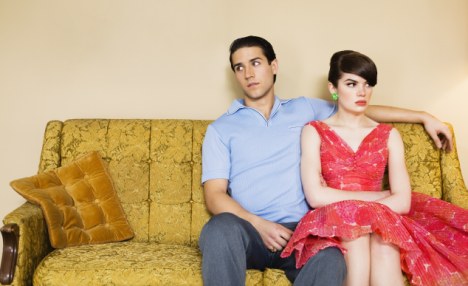 But here's the problem with that:
1) You may not have decided to make that kind of commitment to him yet. Sure, he may be a decent guy, but you really don't know after only a few weeks of dating.
Not even if you think you do know!
2) Now he's going to think you two are exclusive, even if that wasn't your wish. (Which is why you had that feeling that you might have made a mistake)
3) Now you've lowered your value in his eyes.
You made an implied verbal agreement with him, and now he thinks he's got the upper hand and control.
You've just taken yourself off the market, which  is not the way you want to handle those first few dates. It just communicates desperation.
But you were actually swindled into this situation by HIM. It wasn't your fault.
He was the one that lost his composure and blew it. And I'll bet that phone call did nothing to make you feel more attracted to him, right?
If anything, now you feel like you're in a difficult situation with him. You locked yourself in, which is unnerving.
But you also realized this guy doesn't really have a good level of self-confidence if he breaks down and comes to you crying on the phone for assurance.
Very un-cool, as my friends would say.
So what are you to do?
Honor your feelings. Respect your instinctual desire to pull back from him – for a time.
You need to get a little distance from him so you can determine if this was a momentary loss of control…
…or a habitual one.
Just take a few emotional steps back from this guy while you get your emotional footing again. Let him chase you once again.
Because if he's unable to keep himself together, you will not feel real sexual attraction for him. No matter how much attraction and desire you feel for him in any other way, his lack of masculine strength will throw cold water all over any flames of passion.
You will struggle with this for a while, trying to talk yourself into continuing the relationship, but it will only turn bitter and hostile between you. Resentment is usually the end of the road.
On the other hand, if he can summon his natural masculinity, and keep these fits of insecurity under control, you two could weather it out and have a pretty nice romance.
Either way, it's HIS decision. You need to protect yourself from the men that may not be up to your standards of maturity, and only let the ones in that prove themselves to be the kind of man you can feel that gut-level attraction for.
Don't lower that standard for anyone!
Yours, in Perfect Passion,
– Carlos Cavallo