Is She Funny, or Just Plain Crazy?
In a relationship, I think it's important to not take yourselves too seriously.
Humor is part of the glue that keeps you together (aside from a sizzling sex life, of course).
After all, being able to take each other's antics in stride is definitely a healthy sign.
Take this lady, for instance – she took a couple of "I'm watching you" selfies which she used as the lock screen and wallpaper on her boyfriend's phone.
He didn't discover the surprise she had left him until he was already out on the town with his buddies. So he posted the screenshots online, and it seems he was totally cool about it.
This is how you do it, ladies.
When you keep your guy on his toes just enough, he'll think of you as a fun, cool girl who's not about bring his freedom to an end.
Plus, being able to poke fun at the "psycho girlfriend" stereotype is a good reassurance for him. Most guys are secretly afraid they're going to date one of "those girls".
Obviously, NOT all women are like that, but they do exist just as much as the creepy guys that you need to deal with.
Guys aren't going to tell you, but they have a list of red flags in their heads.
If any of these come up, it's a sign for him to run:
Getting too personal during an argument – stuff like digging at a guy's ego ("You're lucky because I don't usually date short guys!"), mocking the other people in his life or threatening him in any way.
Getting into end-of-the-relationship fights over the small stuff, like looking at another woman for half a second, hesitating during the "Do you think I'm fat?" line of questioning, or not complimenting your new haircut.
Getting physical

during a fight, which puts a guy in a pickle since he's probably not going to hit back and opt to run away instead.
Disregarding his personal boundaries, such as erasing his texts and emails, or taking over his social media accounts to make sure everyone knows he's "in a relationship."
Pitting yourself against his friends and family and/or telling him whom he can or can't see.
I'm going to wager you're not like this, but a little heads up never hurt anyone.
In the case of the prankster girlfriend, her little stunt is perfectly harmless in my opinion. If you're thinking of pulling the same trick on your guy, I'd tell you to go for it – with one little caveat.
Carlos Cavallo, Dating and Attraction Adviser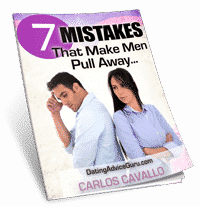 Get Your Free Cheatsheet
The REAL Reason Men Run From Relationships...
How To Know If He's Still Interested...
Is He Afraid To Commit? Find out...
Enter Your Email And Get The 7 Mistakes Women Make That Make Him Pull Away...
As funny as this joke is, it's a bit of a fine line to walk.
So unless you're 100% sure your guy isn't going to freak out, it might be a good idea to pass on this one.
Other than that, have at it. Not only will it give him a good chuckle, his buddies will agree that he's found a winner.
By the way, I've just come out with a course called the Connection Code – it's the best way to flip a guy's attraction switches so he'll never let you go.
Once you've figured out his Connection Style (something I'll teach you), he'll realize what a keeper you are.
This is all simple stuff to learn, and you can apply it right away for IMMEDIATE results. It all starts by clicking HERE. 
Yours, in Perfect Passion,
– Carlos Cavallo