The KILLER ATTRACTION TECHNIQUE you've known all along (but NEVER use)
Have you ever wondered what makes a guy say, "Hey, this girl is different…there's something about this one"…
…and, "Hey, this girl is just like every other one I've met"?
As someone who's dated quite a few women not too long ago, the one trait that seals the deal for a guy is something most girls already exhibit.
But the problem is that most of these women don't realize it and NEVER practice it enough around guys.
Don't worry, there's nothing elusive about the special, must-have quality that attractive women possess. In fact, it's as simple as understanding a few basic guidelines of attractive behavior.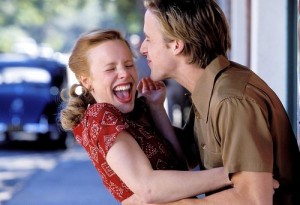 Being Yourself = Laziness?
Ok, so most women have heard the tired old trope that they should just "be themselves" to make a guy see her "true beauty" and fall madly in love with them.
The thing about that generic piece of advice is that it doesn't really dig into the heart of matter.
On some level, "being yourself" becomes an excuse to act and dress any way you want, and that's completely missing the point.
The real spirit of "being yourself" is all about being the highest quality version that you can possibly be.
Ok, so what does that mean in practical terms?
You need to employ certain characteristics that you ALREADY have, but in the RIGHT setting.
Maybe it's ok to wear a less than flattering get-up and (and literally) let your hair down when you're at home. When you're out and about however, you should behave and act in a way that's appropriate for the occasion.
Carlos Cavallo, Dating and Attraction Adviser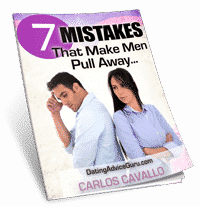 Get Your Free Cheatsheet
The REAL Reason Men Run From Relationships...
How To Know If He's Still Interested...
Is He Afraid To Commit? Find out...
Enter Your Email And Get The 7 Mistakes Women Make That Make Him Pull Away...
You wouldn't wear your sweatpants and bring a pint of your favorite ice cream to a job interview – nor would you put on a corporate outfit before going to bed.
But it's more than just appearances – it's also about your behavior underneath. For instance, should you say the first thing that comes to mind when you're dating a guy?
Obviously not, but it's not because you're trying to cover up some part of yourself – it's more about putting on your "game face", i.e. bringing out the best parts of your personality when needed.
Bringing Out the Real You
So what can you do to make the best parts of yourself shine when it really counts?
First of all, don't be like other women who think that they can stop taking care of themselves and not care about how they look – all the while expecting Mr. Perfect to crash through their front door.
That means you should always be on top of your health, fitness, style and hygiene if you want to advertise yourself as someone men can take seriously. There's really no way around that.
But here's the catch: your primary motivation is to celebrate your best qualities and feel AWESOME about being YOU. You're not simply pandering to other people in the hopes of getting their approval.
In other words, genuinely caring about your own welfare is an attitude that encourages other people to have a positive perception of you.
The other bonus that comes with a self-referenced and self-respecting attitude is that it creates a relaxed, easy-going aura (mainly because you're happy with who you are) that pulls other people into your orbit.
Taking Control of Your Attractiveness
So what you need to realize here is that you already have the capacity to be the most attractive woman out there – and the trick is having enough self-awareness to ACT on it.
For example, you might think that opening up to a guy you just met about the intimate details of your life will bring you closer. It only creates the opposite effect because he's not in the frame of mind to deal with that stuff just yet.
Sure, your challenges and heartbreaks might be part of who you are, but there's a time and a place for bringing out that part of yourself later on.
In the meantime, you're better off focusing your energy on being a fun girl to hang out with.
Besides, you're already that girl when you're with your friends. There's no stakes involved and your only agenda is enjoying the pleasure of each other's company.
Now is the time to be that same person when you're on a date. When a guy catches on that you simply want to rock his world and nothing more, you'll be 100% real to him.
So loosen up, relax and don't think about the outcome. Besides, you know you look great (since you've been taking care of yourself), so you'll feel great as a result.
Also, think about how relaxed your body language is when you're in the presence of people that you're at ease with, like your friends and loved ones.
That means no quick, fidgety hand movements or a hunched posture. All signs should indicate that he has your full attention; it should be as if he's the only person in the room.
Crazy as it sounds, but carrying yourself in a certain manner will help you "look the part" of the person you want to "portray" (which happens to be someone you already are in certain situations).
If your life was a movie, then you've been playing this attractive "character" all along. You just have to get into the habit of tapping into it when the moment's right.
Oh, and if you're interested in getting your dream guy to play the leading man in your life, you better figure out his Connection Style ASAP.
It's a basic characteristic that all men have, and you can learn how to use it to create the perfect relationship. It all starts by GOING HERE.
Yours, in Perfect Passion,
– Carlos Cavallo