TRASH TALK: What Does A Healthy Relationship Look Like?
I used to go out to dinner with friends a lot. (Though having your own family cuts that time down quite a bit.)
Inevitably, I'd get home with my date and we'd start talking trash about the other couples. It's almost guaranteed that they were doing the same about us.
But we were doing it in the search for an answer to this question:
What does a healthy relationship look like?
First, this may come as a shock to you – but most of what you THINK a healthy relationship is has been shaped by Hollywood. I know, that's probably not shocking at all.
The truth is that most of what people think is a healthy relationship is simply NOT sustainable:
You can't sit in a hot tub and drink champagne all the time…
You can't stare deep into each other's eyes all the time…
You can't stay up all night getting it on…
You can't always be in agreement, or starry-eyed
These are a few of the unreasonable ideas many people have about relationships. And they make awesome pictures for a blog – ahem – but not very good relationship philosophies.
What do you think a healthy relationship looks like?
Do you believe that 1 + 1 = 1?
That notion that when two people get together they fuse into a complete person? Which implies that you were not whole to begin with, by the way.
Well, let's start by clearing that up that equation right away:
Carlos Cavallo, Dating and Attraction Adviser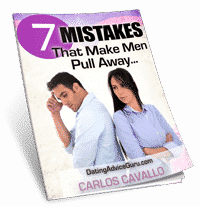 Get Your Free Cheatsheet
The REAL Reason Men Run From Relationships...
How To Know If He's Still Interested...
Is He Afraid To Commit? Find out...
Enter Your Email And Get The 7 Mistakes Women Make That Make Him Pull Away...
REALITY: 1 + 1 = 3
That's right. When two people get together, they retain their individuality. AND – as a bonus – they create a THIRD person. This third is the magical entity that's created from the connection they share together.
So connection IS a good thing, but it's never going to be a cure for where you are not whole.
A healthy relationship is where two people come together to share their lives.
Not to fuse together into one life. That's what they used to call codependency.
A lot of people rely on the intensity of a love relationship to create the artificial sense of love. This intensity is really only the lust. It feels magical and all-consuming, but it's really just a way to avoid dealing with our own sticky stuff.
Hey, I was one of those people once!
I used to think that getting together and just burrowing into the other person was the definition of love.  I thought love meant we are one being. We do everything together. There is no you and I, there's only us.
That wasn't "healthy" love at all. 
Healthy love is two separate people – holding hands and facing the horizon together. Not wrapped together in one mushy ball of hormones and Al Green songs playing in the background.
Your life is WITH that other person, not FOR the other person. Again, we get it all wrong listening to song lyrics about idealized love.
Just take a look for a second at all the ways we sabotage love with selfish needs and desires.
Here are some signs you're in an unhealthy relationship:
Controlling – trying to make the other person do what you want to keep you feeling safe…
Disregarding your wishes and desires, not respecting your "No."
No relationship security – you both threaten to leave the other…
You haven't influenced the other in a positive way…
And you've influenced them in negative ways that you can clearly see…
You get into heated emotional combat with your partner, bordering on verbal abuse…
You manipulate each other – either overtly or covertly…
You feel worse about yourself than you did when you were alone…
You mock and ridicule each other – talking each other down…
You stonewall each other – avoiding discussion about the topics that really matter…
You don't believe your partner would be a good parent…
You feel trapped in the relationship…
Chronic lying to manage the other person's behavior or feelings…
Either of you has been unfaithful without it being resolved through healing…
You're regularly tempted by the thought of a relationship with another person…
Your arguments always go to extreme threats – "If you don't ________, I'll _________ !"
You or your partner avoids intimacy at all costs…
No affection or positive mojo in your relationship…
Your partner is stingy with effort when it comes to the work in the relationship…
You feel lonely when you're with him…
Your partner doesn't have your back…
Your partner is physically abusive or violent…
Now any of those signs could be your behavior, their behavior, or more likely both.
But there's usually a "contribution" factor where each person has a small contribution to the unhealthy dynamics.
So you have to keep in mind that there needs to be one BIG element to make your relationship work on a basic level…
HOW TO MAKE HIM WANT YOU: KEEP THE FIRE BURNING!
Lastly – the essential element that keeps a healthy relationship together is the sharing of PASSION between you. It's what pulled you together at the start.
You see, most people get together with a bit of passion, but then change over to CLING mode to try to merge with their mate. Or they stay together with only the weakest of bonds between them.
You have to use your attraction for each other – and keep that feeling going.
Most couples think that once you feel it, passion just stays there and you always feel attraction for your partner/spouse.
NOPE!
You have to work at it.
And that is why most relationships today fail.
That's right – the only relationship that you will have that will be "FOREVER" is the one that you … well, die in.
That might sound awful and kind of harsh, but it's true – and important to consider.
Every one of your relationships – except the one where you or he dies – will fail. Because relationships only end one of two ways.
As a matter of fact, ALL of your relationships until the one you're in NOW have ended. "Failed."
Well, I don't consider them failures. They did teach you something about yourself and how to relate in an intimate relationship. Chances are it taught you a lot about what you really want (and don't want) in your next relationship.
I call that a learning experience.
So in order to have a healthy relationship, you have to have 3 important elements:
#1 Healthy Relationship Element – You Need Healthy Separation: You have to be separate and whole people before you can be TOGETHER people. And even after you're together, you're still separate. Don't try to merge with your partner, because that will push men away faster than it will create the kind of union you're looking for.
#2 Healthy Relationship Element – You Need Common Direction: You have to be separate, but you should definitely be headed in the same direction together. Your outlook on life, along with your goals and attitudes need to be aligned, or you will feel the friction pull you apart.
#3 Healthy Relationship Element – You Need Shared Passion: You have to have the important energy between you to pull you together – like attraction, chemistry, sex, and probably most important – TRUST. Without this energy and bonding between you, you'll be like two orbiting stars that can't find a balanced energy to STAY together.
I'm guessing that if you could look back on your previous relationships, you'd probably find one or more that were missing in one of these healthy elements.
Or you may have misinterpreted what you thought was important at the time.
Now that you know more about what a healthy relationship is, you'll be able to look at your current – or future – relationship and understand better how to make it work.
And if you want to learn more about healthy relationships, you can read about more essential traits here – and you can also get the Connection Code HERE…