Where Have All the Good Men Gone?
Have you ever had that fear of letting a certain guy slip past you? Maybe the possibility of things not working out was so terrifying, that the following thoughts raced through your head:
"I CAN'T let this one go…he's too good for me and who knows if I'll find another guy like him?"
"Finding a decent guy in this town is like winning the lottery…they're so rare nowadays!"
"Oh no, I think I said something stupid last night, so he's probably not going to call me…this is a disaster, I really liked him."
Dating guys with this weak and needy mindset will already ruin your chances.
Whoever said that all the great guys are "either married or gay" was probably afraid that there isn't enough goodness in the world for everyone.
Fear can make you think of the worst possibilities even if reality says otherwise.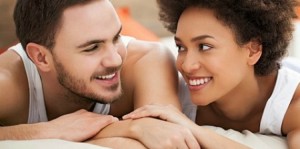 And this kind of thinking can drive someone to act as if dating was a matter of life and death. This creates all sorts of trouble for women, such as:
Latching on to the next available guy for the sake of NOT being single, as opposed to choosing someone you really like
Not seeing a guy as a person, but rather just someone who can offer a security blanket in the form of a relationship
Getting too emotionally invested in a guy you hardly know which distorts your thoughts and actions, turning him off as a result
On top of all of that, women who fall to these unhealthy behaviors ultimately shortchange themselves.
If you feel that you're not "good enough" for the guys you really want because they're "unattainable", men will catch on to this vibe.
Needless to say, all this nervous energy isn't attractive and automatically lowers a guy's respect for women who act like this.
But here's the silver lining: you can, starting today, CHOOSE to break this cycle of disappointment.
The first step is to consciously let go of whatever the outcome may be. Seriously, all you need to do is detach your mind from the future and just go with the flow.
Carlos Cavallo, Dating and Attraction Adviser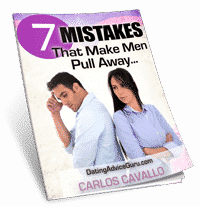 Get Your Free Cheatsheet
The REAL Reason Men Run From Relationships...
How To Know If He's Still Interested...
Is He Afraid To Commit? Find out...
Enter Your Email And Get The 7 Mistakes Women Make That Make Him Pull Away...
This is the path to freeing yourself from self-fulfilling prophecies and Murphy's Law kind of thinking. When you decide to make the most of each moment as it comes along, you'll stop worrying about what happens next.
The result is that men will find you infinitely more attractive because you're relaxed, don't give off a "heavy" vibe, and basically fun to be around.
The biggest mistake you could make is having a running commentary in your head to analyze a date or conversation at a microscopic level. Instead, embrace the chaos that life brings us.
Shut off all that mental static and focus on enjoying the ride. See where it goes and let things play out.
If there's chemistry, then great – but if there isn't, there's always plenty of opportunities to meet other guys.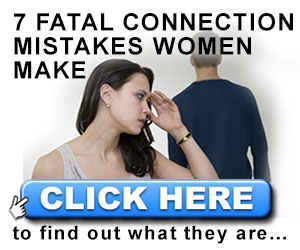 And that's all it really takes to be as REAL as you can when it comes to dating.
Granted that it takes time to make a habit out of this new approach, but you'll have everything to gain in the greater scheme of things.
Also, there's an easier way to create a REAL connection with a guy without the need for mind games or ultimatums. It's just a matter of figuring out his Connection Style to keep him for good.
The best part about it is that it's a simple, easy-to-follow system that makes sure your guy will never pull away from you.
Yours, in Perfect Passion,
– Carlos Cavallo