Maybe you've gone through our previous post on online dating, and decided that you want to give it a shot...

If that's the case, then you need to know what you can do make sure you find the right guy, without the drama:
#1: Create a Killer Profile
Don't underestimate the power of packaging yourself the right way.
There was one time I picking out cough syrup at the drug store, and I got the one that said "dissolves phlegm and helps clear the lungs." In my sick state, it was exactly what I needed.
The lesson? Even something as boring as a pharmaceutical product can be exciting when packaged the right way. (Not that you're boring though!)
In the same way, your profile should create a sense of excitement for potential partners.
You know you're a fun, awesome girl to be with, so your profile should convey that to the digital dating world.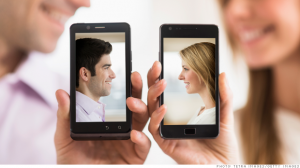 Put some thought into your profile picture, and not just a random photo from that party a couple of years ago.
In fact, get a photographer (either a professional one or a friend with one of those expensive cameras) to take your picture just for this purpose.
As for your profile description, stick to three basic guidelines: keep it brief, keep it positive and keep it real. Stick to topics like your passions, hobbies and your long-term life goals.
Nothing is a bigger turn-off than a lazily written "about me", section, or a really long one for that matter.
The same goes for a list of people who you WON'T date, which indicates you've been burned before or just plain bitter.
Above all, practice truth in advertising. There's a difference between playing up your best qualities and crafting an online persona that's completely different from your everyday self.
#2: Learn How to Pick the Right Guy
Ok, we talked about dating profiles, but of course, it doesn't tell the whole story.
To know what your potential mate is all about, learn how to ask the right questions.
Maybe you have a few must-haves in a guy (certain physical traits or hobbies don't apply) related to his core values in life.
To find out if yours match – or are
at least

compatible – with his, try asking him about these indirectly.

For instance, if you wanted to know where he stands on commitment, tell him about your friend who had his guy bail out on her because he didn't want to commit.

When you ask him his opinion on the subject ("My friend was really upset – do you think she was right to feel that way?"), his answer will give you the clues you need.

(For more information on this, check out our previous post.)
#3: Keep it Light and Fun
Start things off on a light-hearted and casual note. When you decide to message someone interesting, comment on what you liked about his profile to get the conversation going.
Don't make him feel pressured – just stick to having fun in the moment so your relaxed vibe will put him at ease. Try not to bombard him with too many messages if he hasn't replied yet.
Whether or not he's interested doesn't matter. There are other guys out there who are as just a good (or even better) match for you.
In the meantime, don't beat yourself up over a little radio silence. Give things time to grow and play it by ear.
And while you're at it, save the personal or intense messages for face-to-face interactions instead.
They deserve to see you in person if you have anything to important to discuss, so pick an appropriate time and place for that.
#4: Always be "On The Level" With Him
Dating of the digital kind changes the dynamic of your interaction, so sometimes misunderstandings come from mismanaged expectations.
Since you're dealing with a virtual stranger, it doesn't hurt to let him know how often you check messages (so he doesn't think you're flaking out on him) or anything else he needs to know upfront.
Of course, exercise common sense and don't get into deeply personal stuff. But do let him know about anything important enough to affect your future relationship with him.
While online dating is a great avenue to connect with people, the best way to getting a guy to fall in love with you is another matter.
That's why I've devised a course that will teach you how to identify a man's unique Connection Style – this is how to make him stick around for the long haul.
Interested? Learn more - CLICK HERE...
With Love -
- Carlos Cavallo