TALKING TRASH – Q&A: Does he like me more than a friend?
I got a question from a reader and I want to share it with you. It points out one of the most common situations a woman can find herself in…
LETTER FROM A READER…
Hi Carlos…
Thanks so much for your programs – they've helped me to really understand where men are coming from. Your articles are fantastic, but your programs take it to such a deep and powerful level. I wish I'd had these YEARS ago... and you can bet I'll make sure my daughter uses them too. (Gotta give her the edge!)
I have a question about guys and dating…
I'm a single mom, and I've been dating for the last few months actively.
I wanted to ask you about one guy I went out with and what you think –
We went to a wine bar on my side of the city on a Thursday night. I thought we got along really well.
He was sweet and nice, but I'm left wondering if he really liked me for more than friends.
What do you think?
Carlos Cavallo, Dating and Attraction Adviser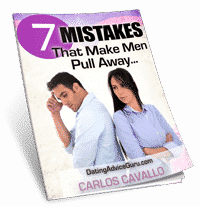 Get Your Free Cheatsheet
The REAL Reason Men Run From Relationships...
How To Know If He's Still Interested...
Is He Afraid To Commit? Find out...
Enter Your Email And Get The 7 Mistakes Women Make That Make Him Pull Away...
CARLOS ANSWERS ON "Does he like me more than a friend?":
Well, Marosa – this is a very common concern. And one that men have just as much as women do.
That's always the big question…. Does he like you for more than just friends?
I'll have to admit up front that you didn't give me enough to go on for detail there, but I can probably read between the lines on this and help you.
First of all you have to realize that a relationship should only start one way: With sparks!
When I say sparks, I don't mean that you two should be rushing off to a closet somewhere on your first date because you just can't keep your hands off each other… (although that wouldn't be bad, either.)
What I mean is that you need to feel that definite pull from the body towards this guy – and it needs to happen early.
It might even be a little boring on your first date… as long as the fire starts up sometime in the first few dates.
So all that advice you hear about giving him a second chance is accurate. You should!
As long as this guy isn't an obvious NO – you should leave the door of opportunity open for at least TWO dates. Maybe even three if you have some weird circumstances that get in the way. Like maybe he had a bad oyster and had to run home.
Unless you're getting a REALLY clear message that he's not for you, give him a shot.
My good friend Laura has been dating the sweetest guy for the last 6 months. He's a complete breath of fresh air compared to her previous (soon to be ex) husband.
But that's often what happens in a relationship that sours.  We rebound toward a person that fulfills us in the opposite way.
So don't expect that you're going to immediately know if he might be the one for you. It might take a few dates to realize what you thought you wanted was not what you really wanted.
Now I have to let you know about something else –
The Feminist Conspiracy!
Don't worry – I'm not getting political here… I just like really triggering headlines.
There is no conspiracy, of course. But keep in mind that a lot of guys are feeling the pressures of heightened politics surrounding gender these days.
It's making a lot of men shy away, and towards the side of caution. Even though it's less than 5% of the men out there behaving poorly, we all feel it.
So he may also be trying to not look like all the examples of bad male behavior, too.
He's going to over-correct. And that will make it hard for you to figure out if he's really interested in you or likes you.
Which also steals some of the fun exciting mojo from those first interactions.
Be willing to tell him up front what your "gender expectations" are so he knows how far he can go.
There is a lot of hyper-sensitivity out there in the land (sorry folks, it's only the US right now…) So recognize that men are on their guard.
But what if he only likes you as a friend?
Is there anything you can do about it?
YES!
There is… read on:
How To Escape The Friend Zone
There's nothing quite as yucky feeling as knowing you like someone but you think they may have put you in the friend zone.
Ah, the Friend Zone.
The definition of the Friend Zone is:
"In popular culture, the friend zone is a situation in which one member of a friendship wishes to enter into a romantic relationship, while the other does not. It is generally considered to be an undesirable situation for the rejected person"  – SOURCE: Wikipedia
"Undesirable" is an understatement.
Some would say it's hell, because you can't walk away from the friendship, and yet you can't get your feelings validated.
If you walk away, you're left with the feeling of "what if?"
It sucks no matter what you do…
And you might be surprised, but this situation is a much bigger problem for men. It's one of the most common questions I got when I was advising men.
But that's not to diminish the feelings women have when they experience it, too.
So how do you escape the Friend Zone?
The first thing you have to do is to not let yourself be put there against your will. In some ways, the Friend Zone is a test, to see if you're going to step up and fight for him.
Are you going to be the meek, timid chick who just follows him around like a love-starved Chihuahua?
I hope not…
I know there are a bunch of lame advisors out there that will tell you that you should just hang around and hope that he just gets desperate enough to give you a shot.
I mean, eventually he'll get drunk and if you're around and can get him back to your place, you'll have your chance!
Right?
Uhm. Well…
That's a pretty big IF.
Sure, most guys will eventually succumb to that temptation, if he's not in a relationship. But you can't count on it.
You have to have the guts to declare your interest in a way that leaves him swooning a bit. But also doesn't compromise your feminine need to feel desired.
You gotta be willing to push him a little toward your love, and then be willing to walk away if it doesn't work.
I won't kid you – it takes a strong woman to pull it off.
But that's what he's looking for!
A woman who knows her value enough to offer it, and then move on to find someone who will really go for what she has to offer.
And you know what? YOU can show that to him.
If you know how to connect with a man in the right way.
You may have experienced this, too. This feeling of:
"What does he REALLY want?"
It's not just sex… It's not just someone who is conveniently there for him…
He wants to see that you're a special kind of woman – and he's looking for special signals that tell him he's found her…
If you want to know more about the signs that you're his Soulmate – go here…